Featuring Laser Therapy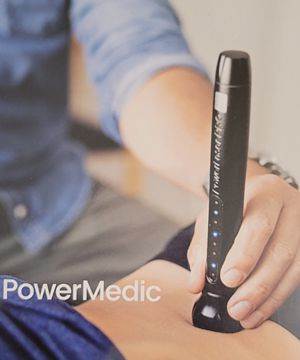 What is laser therapy?
Energy
Laser therapy is intensified energy for the natural healing. The laser light penetrates deep into the tissue, into each individual cell.
The cell absorbs the energy from the laser light and promotes all of the body's natural repair mechanisms.
Laser therapy reinforces the healing process and strengthens the immune system. Laser therapy supports the body's own functions and makes them happen markedly faster.
Accelerated Natural Healing
Time
The healing time for acute injuries is significantly reduced. Wounds heal quickly and effectively.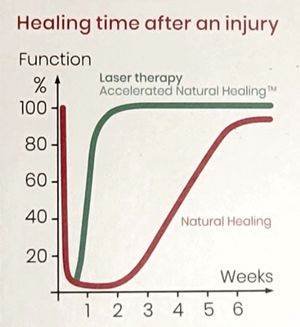 The following are typical examples:
Sprains: Fully heal in 6-8 days
Tennis elbow/mouse arm: Heals up in 4-10 treatments
Leg ulcer: Heals up in 2-3 weeks
Arthritis pain: Is reduced, often significantly
How often will I need treatment?
It depends on the specific problem, whether it's an acute injury or a repetitive strain injury sustained over a longer period of time. Typically 5-10 treatments over the course of 2-3 weeks. One laser treatment typically takes 2-15 minutes and is often combined with other treatment.
Does it hurt?
Laser therapy itself is painless, it can sometimes feel like a slight prickle or tingling.
Are there any side effects?
There are no known side effects to laser therapy. At the most, there may be a therapy reaction, such as increased discomfort in the treated area. This is perfectly normal and will usually go away within 12-24 hours.
When not to use laser therapy?
At this time, we do not recommend treating patients who are pregnant or have been diagnosed with cancer.
There's currently no documentation indicating that laser therapy would be harmful in these cases, however, just to be safe, and to avoid liability issues, we do not recommend using laser therapy for pregnant women or cancer patients.
Is laser dangerous?
It depends on the power and the type of laser. All lasers from PowerMedic are developed according to current standards for medical equipment. This means that known risks are eliminated or minimized so that the treatment can be applied as safely as possible.