Welcome To Columbus Chiropractic Care Center
When you're in pain and in need of a correction, change course for Columbus Chiropractic Care Center and get pain free again!
Whether you're looking for treatment for acute pain, chronic pain, or just a checkup – you'll find us ready to serve you and meet your personal needs.
All Levels of Chiropractic Treatment
You can come to us for effective chiropractic treatments of acute pain, chronic pain, or even health maintenance. You'll find not only are we dedicated to offering the best in chiropractic treatments, but we do what we can to find the main causes of your pain and help eliminate them!
Patients of All Ages Welcome
From the elderly to our always active youth and everyone in between – we accept clients of all ages and love to see our clients smiling because they feel better!
New patients can use our coupon for a great first visit deal and we're always happy to meet new clients. Give us a try!
Our professional chiropractor, Dr. Rupp, can help treat a variety of ailments such as:
Acute Pain – Suffering from sudden and sharp back or neck pains? Let us have a look and see if we can straighten out the problem.
Chronic Pain – Many people suffering long term chronic pain find relief with consistent chiropractic treatment.
Health Maintenance – Feeling fine, but want to make sure you don't go into pain again? Come on in for health maintenance to stay on the straight and narrow!
When the pain is too much to stand, call 920-623-1106 and get Columbus Chiropractic Care Center on your side to a speedy recovery!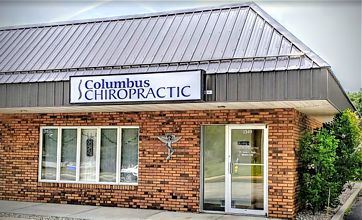 Appointment Times
Monday: 8:30am–Noon 2–6pm
Wednesday: 8:30am–Noon 2–6pm
Friday: 8:30am–Noon 2–6pm

Receptionist Only (no appointments)
Tuesday: 8:30am–Noon
Thursday: 8:30am–Noon
We are ready to assist you today. Contact us today so we can set you up with an appointment right away!